The company reported record shipments of electric cars in the third quarter, but the figure fell short of analysts' forecasts
In trading on Monday, October 3, on the pre-market NASDAQ, shares of U.S. electric carmaker Tesla fell 6.5% to $248 per share. By 1:42 p.m. Moscow time, the decline had slowed to 4.62%, according to data from the site.
Quotes began falling amid the publication of the quarterly supply report. Tesla delivered a record 343,830 vehicles worldwide for the third quarter of 2022, but analysts had forecast an increase in sales to 358,000 units. Production was 365,000 units. By comparison, Tesla's July-September 2021 deliveries were 241,300 electric vehicles with production of 237,823 units.
"In the third quarter, we began moving to a more even distribution of vehicle assembly across regions, which has resulted in an increase in the number of vehicles being shipped to customers. These vehicles have already been ordered and will be delivered to customers when they arrive at their destination," the company said in a release.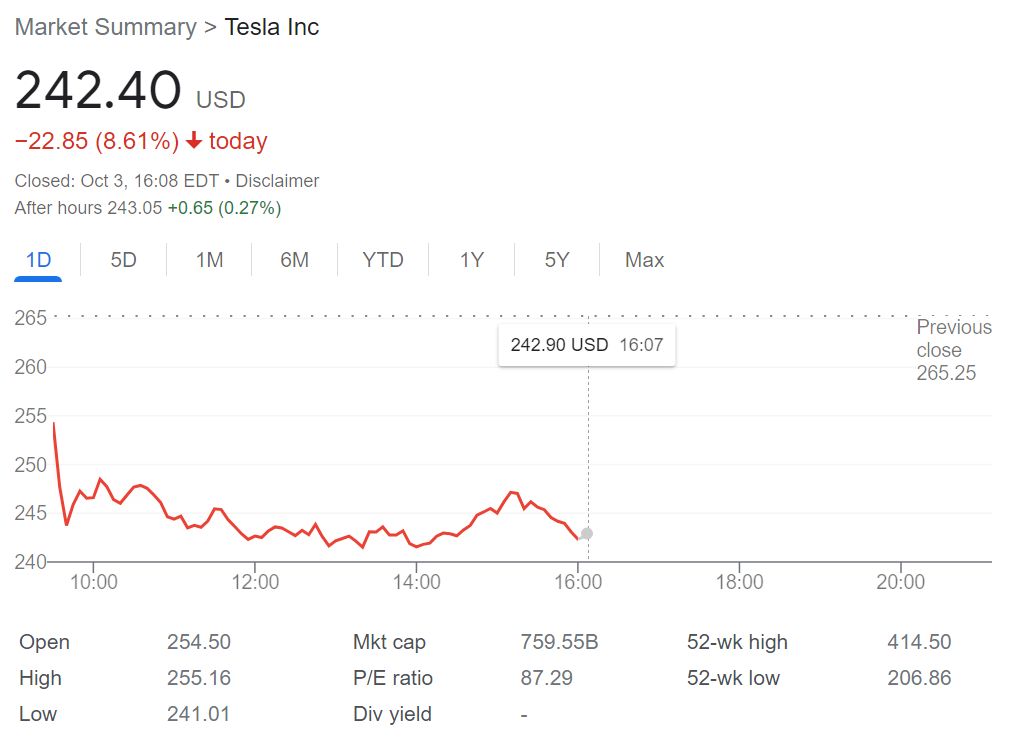 Tesla manufactures the Model S, X, 3 and Y at its plant in Fremont, California, and also assembles the new Model 3 and Y at a plant near Shanghai. Tesla recently began shipping the Model Y from its Berlin and Austin plants.
Tesla's largest markets continue to be the U.S. and China, with the Model 3 sedan and Model Y crossover accounting for the vast majority of sales for the third quarter of 2022.
Quarterly shipments are one of the key metrics that Tesla investors keep a close eye on. The company will release its full aftermarket report on Wednesday, Oct. 19.
However, on the same day, a few hours later, strange posts appeared on Ilon's Twitter account, which stirred up the Internet, as a result of which the securities are holding below the opening rates is no longer clear.